Community Involvement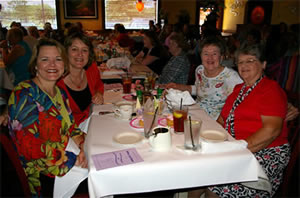 Pictured from left to right, Diana Holder, Donna Weseman (sister), Joan Croft (mother) and Betty Holder (mother-in-law).
Hospice of Marion County recognizes Diana Holder of Holder Insurance as a Gardenia Sponsor at their 4th Annual Mothers Day Luncheon held at Bonefish Grill, May 10, 2008. 100% of the funds raised at this event go to the children bereavement camps sponsored by Hospice of Marion County.
---
At the 9th Annual Evening of Thanks dinner coordinated by staff and volunteers of the Heart of Florida Hope Foundation, community sponsors and partners who have supported ARC Marion throughout the year.
ARC Marion was first opened in Marion County in 1959. The nonprofit organization creates opportunities for people with developmental disabilities to live, work and play to the fullest of their capabilities in Marion County. The agency provides a variety of programs from early intervention to independent living. The Heart of Florida Hope Foundation serves as the fundraising arm of ARC. For more information about ARC Marion or the Heart of Florida Hope Foundation, call 387-2210.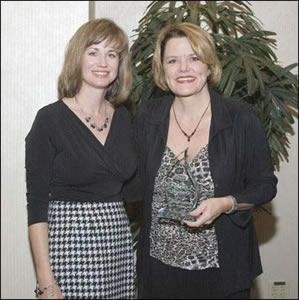 Foundation board president Lauren DeIorio, left, presents a Platinum Sponsor award to Diana Holder of Holder Insurance.